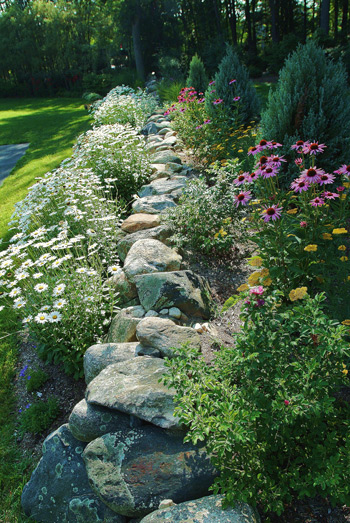 "The time you invested with us in the design process resulted in ideas and possibilities we never would have thought of. Your own commitment to high standards clearly shows in the quality of the design and installation, overall and in the details, is the difference between a good job and a great one."
Joseph, New Canaan, CT
"We were attracted by the flair and creativity of the original design and how it established a sense of balance around the property, accentuated the natural landscape and built on existing views.
In every respect the end result exceeded our expectations.
We were very impressed by the skillful direction and tight oversight provided to the project… and the close eye to detail in the construction."
Philip & Debbie, New Canaan, CT
"The design and approach that Elise developed was far superior to that of any other company… the work that you did on construction was equally exceptional in quality, thoroughness and timeliness. Your team was responsive, easy to work with, willing to fine tune changes and manage the entire project."
Alfred, New Canaan, CT
"Very happy with your work…"
Christine & Jeff, Darien, CT
"Elise provided a comprehensive landscape design and executed that design flawlessly with both hardscape and soft for our 4.6-acre property in New Canaan. They totally re-imagined the front of the property, re-positioning the driveway, creating a knot garden and creating a magnificent approach that showcased the house. They created a park-like environment in the back with terraced gardens, a granite pool deck and perennial beds surrounding an extensive patio."
Jay & Connie, New Canaan, CT
"Everything has turned out so nicely!"
Kelly & Mike, New Canaan, CT
"You combined the existing condition of our property with your ideas… that significantly improved our landscaping."
John, Darien, CT
"Everything looks great, we appreciated the way you used architectural elements from our home in the landscape theme."
Kevin & Allison, Darien, CT
"Thank you for creating a welcoming and sophisticated entry to our home. We are so happy with how everything turned out but were especially pleased with how smoothly and timely the process was. You met and exceeded our expectations. Many thanks for a job well done!"
Alex & Elizabeth, Darien, CT
"The plan Elise created, beautifully enhanced our property. Their staff listened to our needs and incorporated our ideas. They are friendly and extremely attentive. I smile every time I see their truck in my driveway."
Laura, New Canaan, CT